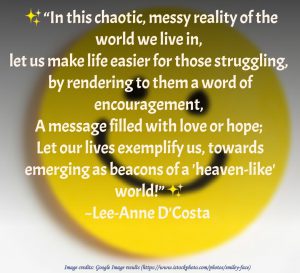 "In this chaotic, messy reality of the world we live in, let us make life easier for those struggling, by rendering to them a word of encouragement, a message filled with love or hope. Let our lives exemplify us, towards emerging as beacons of a 'heaven-like' world!"


~Lee-Anne D.
Hello beautiful one 🙂
A little bit of who I actually am! 🙂 — Unfeigned! Authentic! Candid. And this is me! I want to tell you who I am and so, here's me, 'pouring out my heart to you, almost always behind the screens. 🙂 Understanding me will help you connect with my writing.
Firstly, a very warm welcome to YOU 😎 Here you will discover my rantings, musings, & just all those serendipitous inscriptions in various pieces of writing! I write about emotions, experiences and all that makes me feel not just for myself but on behalf of others too. I'm an emotional wreck and also a crazy empath and that, fortunately, helps me write! 🙂 I also love the world of science. Writing on science and technology is something that I've taken up because of my background and experience.
A little about myself, before you delve into my blog. From a shy, person, always avoiding the limelight, creating my own blog is one tiny step forward towards sharing with the world what my heart holds within.
My story could be your inspiration

~Lee-Anne
I believe that whatever happens, is for a reason if it means meeting someone new or perhaps letting go of things and people from the past who have scarred our souls in inexplicable ways. Life comes hard on all of us sometimes. Even though we may live in faith, hope and positivity, unpredictable things can happen to any of us – sometimes bad and sometimes good. We have to trust the timing and the beauty of, whatever happens, the way it does. And that is why I love pouring my heart in all honesty. By ranting to others could i inspire? Or maybe create something engaging?
I trust that every good thing that happens in life, is a blessing from God. And the not so good, or horrible things? Those must sure be lessons from God, to make us stronger, sharpen our wisdom and help us live our lives with greater fondness.

~Lee-Anne
I feel extreme joy in writing, it is my therapy for the sadness. I want to use this opportunity that I have been blessed with, to share my thoughts, and experiences in various forms of writing. If what I share sounds familiar to you or resonates with your thinking, I would be thrilled to know that, I have achieved something by uplifting someone through what I share. I'd be extremely delighted to know I've inspired someone somewhere through what I share. If you connect with anything that you read here, please let me know, it would incentivize me to write better, and in case you have any suggestions that I could use, please let me know because no two individuals think alike. 😀
I want this to be more of a heart-to-heart so you connect with what I share. You'd also understand what gives me the inspiration to write. Even otherwise, THANK YOU for reading this, and a bigger THANK YOU for patronizing my blog! 🙂 ♥
So, now you know there's so much I have to say (& lots more too but I can't bore you right away!) 😀 … and also you'll see how I love smileys 🙂 😀 😉 😛 😎 (Thankfully the virtual world is filled with these!!)
All things aside, I genuinely hope you enjoy what you read here!
Thank you & God bless ! 🙂
Sending you lots of love and many blessings whoever you are, wherever you may be! 🙂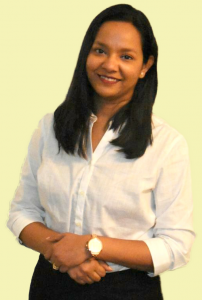 Love,
Lee-Anne

🙂

Credits where due: For every post I create, I may use pictures from the website unsplash.com where thousands of photographers have generously contributed pictures for free use. I'd give each one credit for the pictures I'd choose. Also for a lot of my posts, I have used information from various sources, all of which will be included in the respective blog post or at the end of the same.