Life Lessons – My Motivation
Life Lessons – My Motivation
Money isn't my motivating factor. It never was!

What's motivating?

THE PEOPLE, INTELLIGENCE, CHALLENGES, and OPPORTUNITIES TO LEARN! What pushes me to strive is the SCOPE TO SOAK UP NEW INFORMATION and the CHANCE TO HELP SOMEONE who needs it. That's MY MOTIVATION! Those are my reasons!

I've learnt to look beyond benefits, paychecks, permanent jobs, and what I can get. I've learnt to put my whole focus on WHAT I CAN GIVE. That's where the secret lies, that's when success is achieved. I won't run after something, not even if that's everything I once wanted! If it's meant to be it will come to me

Just like the good old saying goes "Give all you can give, for a thousandfold WILL come back to you!"

~Lee-Anne D.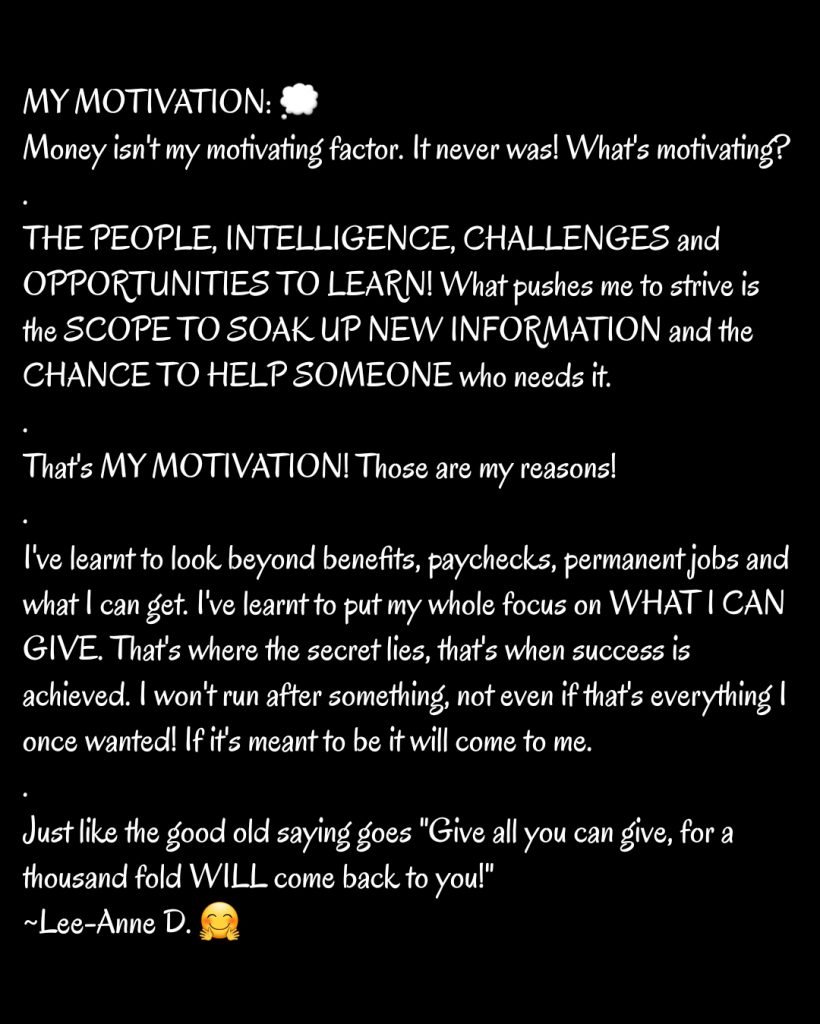 Focusing on what we can GIVE more than what we can get attracts more to us. There are so many people who focus on finding what they can get more than what they can give. Understandably reasonable but how often do we devote time to think about how much we give? Doesn't occur to us spontaneously! There's so much to whine and complain about. But we must be grateful for what we have. There's so much more we may deserve but if we learn to be happy with what we have, what's ours will find its way to us. This is the reality of life. This is the rule of the Universe and the way God wills it for us.